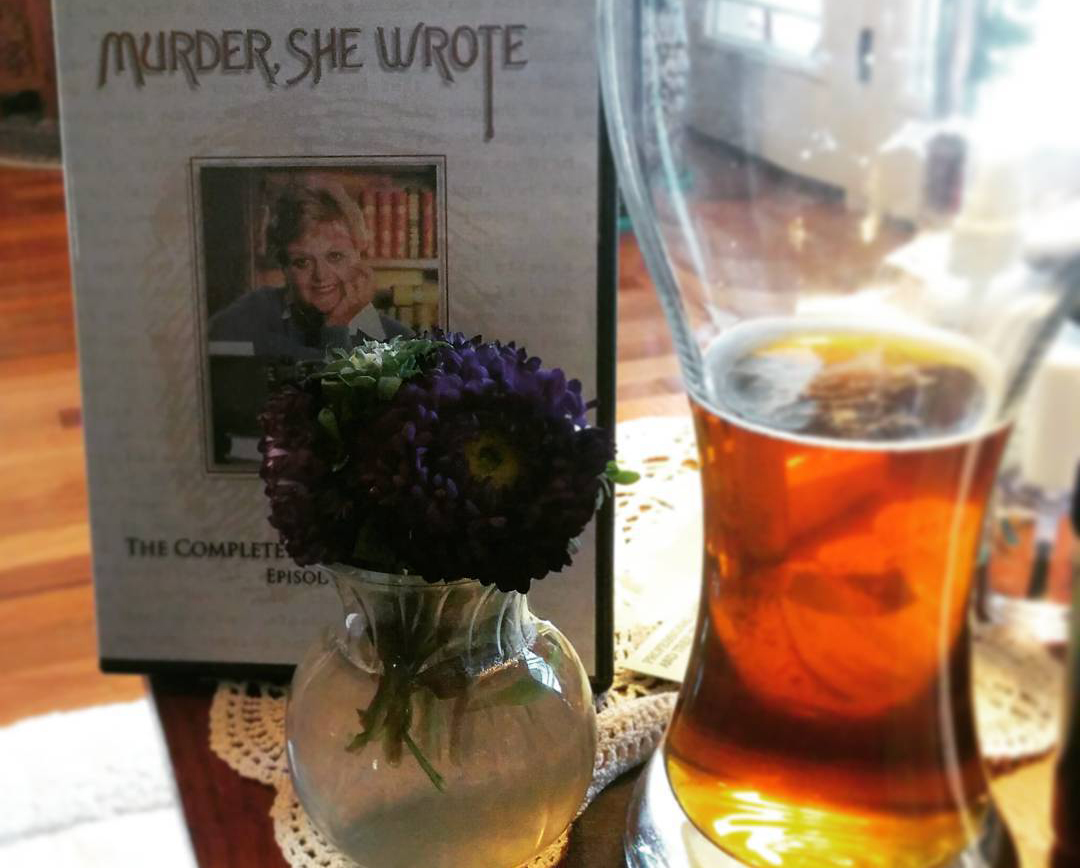 Bingo, Murder, and 80's Tropes
Once a month we watch two episodes of Murder, She Wrote, drink, and play bingo. We live tweet and instagram our bingo progress, so you can play along.
Join us in re-watching all 264 episodes with internet strangers, turned hilarious friends. Download the Bingo cards and use #MurderSheDrank on Twitter and Instagram to participate.
Join us

Episodes for September 18th
Friday, 8pm Central / 6pm Pacific
Join us for mullets and incompetent law enforcement. Participate by following our live tweets of the shows. Join in on the action by tagging your tweets with #MurderSheDrank and play along with our free bingo cards. This Friday we are watching:
Murder -- According to Maggie
S6: Episode 17 Originally aired 4 March 1990 A show cancellation coincides with a network executive's murder.
O'Malley's Luck
S6: Episode 18 Originally aired 25 March 1990 Jessica's friend, police Lt. O'Malley, and his rookie niece solve the case of a businessman's wife's apparent suicide.
Shelter in Place Variation
During shelter-in-place we will be meeting weekly! On the Fridays between the "proper" #MuderSheDrank we will gather to watch a different show. Same time as usual; please check #HyggeLypse on Twitter for the episodes we are watching.
August-Sept: The 100
Using #HyggeLypse on social media; Streaming on Netflix
Heck of a tonal shift, we understand. We just figure if we are living in an apocolypse, might as well watch one that is being handled better than ours is. Plus, it has a strong female lead, murder, and poor fashion choices, just like Murder She Wrote
March-July: Rosemary & Thyme
Used #MurderSheDrank on social media; Streaming on BritBox and YouTube
What isn't there to love about cheeky drunk gardeners literally tripping over dead bodies?
If you missed this when we were doing this, please don't let that stop you from participating! We've left the bingo cards available for you to party on your own time.
Download Free Bingo Cards
Each PDF has several unique cards. All cards have an ID on the bottom so you and your friends can choose similar or different cards.
Murder She Wrote cards

Character-based Cards: Focuses on general tropes and Doc, Grady, and Sheriff events. Includes tweet events and a free space

Cards G1-I3: Jessica Fletcher-centric and general squares. Includes audience participation events and a free space.
FAQs
How do I play?
Easily, you don't even need to play along with us; you can do it on your own time.
Download and print the Bingo Cards.
Start an episode of Murder She Wrote.
Mark a bingo square when the event happens in the episode.
When you get 5 in a row you win MSD Bingo and earn insane bragging rights.
Do I need to use a new bingo card for each episode?
No, that would make bingo very hard. Continue using the bingo card you chose if you watch more than one episode. It normally takes two episodes to get close to winning.
Are the episodes streaming anywhere?
Yes! All seasons are available on the Peacock app. Seasons 1-5 are streaming on Netflix. Canada has all season available through Amazon Prime.
Do I need to drink to participate?
Absolutely not. In fact, half of Murder HQ are sober folks. "Murder She Drank" just sounded hilarious to us and we had to run with it. We do encourage crappy jokes and snacking though.
Is this a regular thing?
Indeed, we've been doing this since 2012. We normally meet at 8pm Central on the third Friday of the month, but double check as this sometimes changes. We are currently working our way through season 6.
How do you divide the seasons/episodes?
After some trial and error we decided to do one season per year. We plot the episodes so that we do two episodes a month and there are normally 22 episodes in a season. This normally leaves us with one month where we technically have no episodes to watch. Some years we do a special "Halloween" edition where we watch a different show (*cough*Supernatural*cough*) and other years we decide to take a break in December so we can relax and refresh for the new year. We always announce what our plans are toward the end of the year, so keep an eye out.
Why do your bingo cards start with "set 3"?
We periodically created new bingo cards as we get on in the series. Sets 1-2 were very hard because they were specific to certain episodes. The earlier cards were based on a drinking game created by Bonnie Burton. As we got on in the series we ended-up expanding the bingo squares to more open tropes of the show as well as common things that we saw happen within the Twitter community. Since we've made the change folks are actually able to win bingo, which is a mighty great feeling.
About your murder bosses
Murder She Drank is run by Kathy (she/her) and Kateri (she/her). Kathy is in CST and Kateri is in PST; they watch together via the magic of video chat. We often are joined via video by our friends in other time zones, who we refer to as "Murder HQ." Kathy tends to be the one tweeting and is also the one who runs this web page; feel free to reach out to her if any corrections needed.